Educate Your Clients About This Social Security Scam
In a recent blog posting on the Federal Trade Commission web site, Jennifer Leach, acting associate director of the Division of Consumer and Business Education, played a recording of a new phone scam that has defrauded tens of thousands of people out of a combined $10 million.
"Scammers are saying your Social Security number (SSN) has been suspended because of suspicious activity, or because it's been involved in a crime," said Leach. "Sometimes, the scammer wants you to confirm your SSN to reactivate it. Sometimes, he'll say your bank account is about to be seized – but he'll tell you what to do to keep it safe. (Often, that involves putting your money on gift cards and giving him the codes – which, of course, means that your money is gone.)"
She also noted that the correct phone number for the Social Security Administration (800-772-1213) is coming across on caller ID, but the phone number that the scammers provide is different. If you or your clients get these calls, you are urged to tell the FTC at ftc.gov/complaint.
As a reminder, NRMLA offers a free consumer brochure — titled Recognize & Report Elder Financial Abuse — that you can download and distribute to your clients that helps them recognize common scams and signs of financial exploitation. Download copies by clicking on the image below.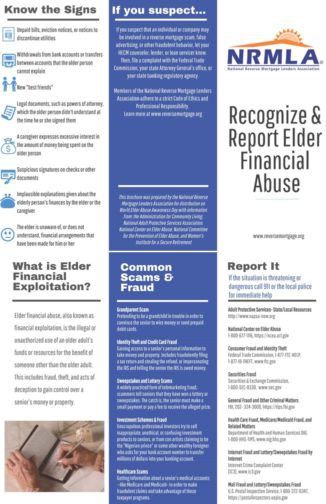 https://allegiantreverse.com/wp-content/uploads/2023/08/ARS-Logo_23_RGB_Color_original.jpg
0
0
Adan Gutierrez
https://allegiantreverse.com/wp-content/uploads/2023/08/ARS-Logo_23_RGB_Color_original.jpg
Adan Gutierrez
2019-01-24 08:57:56
2019-01-24 08:57:56
Educate Your Clients About This Social Security Scam